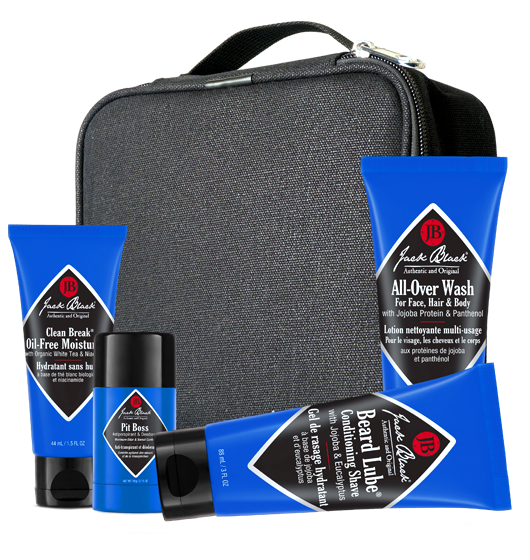 Jack Black - Grab & Go Traveler Set
Description
TSA-approved essentials ensure your regimen doesn't suffer on the road. Comes with a waxed-canvas travel bag with hanger, zip-around closure, mesh zip pocket, and more.

A $63 value!
What's In It
Clean Break® Oil-Free Moisturizer, 1.5 oz.
Oil-free moisturizer leaves skin refreshed and healthier-looking with a natural, shine-free finish.

Pit Boss® Antiperspirant & Deodorant, 1.3 oz.
This roll-up stick featuring our popular All-Over scent glides on easily to deliver long-lasting odor and wetness protection. 

Beard Lube® Conditioning Shave, 3 oz.
This transparent formula functions as a pre-shave oil, shave cream, and an after-shave conditioner to soften facial hair for a smooth, pain-free shave. 

All-Over Wash For Face, Hair & Body, 3 oz.
This multipurpose, sulfate-free wash provides a rich lather to eliminate dirt and sweat without stripping skin and hair of essential moisture that keeps them looking healthy. 

Waxed-Canvas Travel Bag
Water-repellent, waxed cotton canvas with zip-around closure, carry handle for easy transport, and a flip top featuring a convenient storage hook and mesh zip pocket.  The interior includes a large elasticized mesh pouch with water-resistant lining.