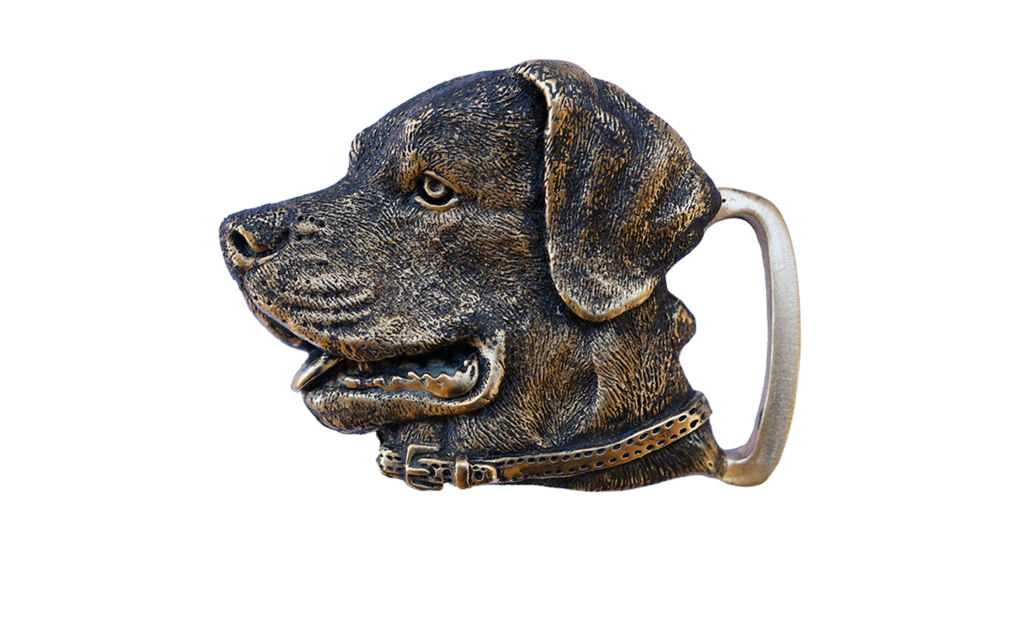 Hook N Hide - Labrador Retriever Shady Buckle
DESCRIPTION
The Labrador Retriever also know as "Lab" is a type of retriever gun dog.  Labs are one of the most popular breeds of dog in Canada, the United Kingdom and the United States. The modern Labrador's ancestors originated on the island of Newfoundland, now part of the province of Newfoundland and Labrador, Canada. The founding breed of the Labrador was also known as the St Johns Water Dog, a breed that emerged through ad-hoc breedings by early settlers of the island in the 16th century.Known for their kind, pleasant, and tractable nature, "Labs" have become for most outdoor men and women, a loyal partner, pet, and best friend.  Labs have innate ability to track and retrieve waterfowl, making a duck hunt much more pleasurable for their show in retrieving and bringing home the harvest.Share your love for your Lab and the many wonderful stories of the hunt by wearing this beautiful detailed Labrador belt buckle and bottle opener.Shady- The name of a great Louisiana Labrador...This design shows in depth detail and familiar traits of Labs there identifaible Characteristics
.MATERIALEach buckle is handmade from Tumbaga, a blend of silver, gold, and brass. All designs are branded with the HNH signature to ensure origin and numerical lineage. Due to the handmade nature of this product, slight variations will occur. Over time each buckle captures a unique colorful patina emulating the incredible details of this fish.  
SPECIFICATIONS
Belt Buckle & Bottle Opener
Lifetime Guarantee
3.25" x 1.24"
Approximately 1.3 oz.